We've all been there. Standing on a pier or shoreline for hours not even getting a nibble while a boat 100 meters away seems to be pulling in fish after fish. The ability to get away from over crowded areas and into better fishing areas can drastically improve your chances of landing fish.
Unfortunately boats are expensive, take up a lot of room and a lot of the time are not practical. Luckily for us a boom in popularity has brought fishing kayaks into the mainstream. Giving us the ability to get away from the shoreline without having to break the bank (and getting in some great exercise at the same time).
With increased popularity there has been an explosion in the number of designs, types and sizes of kayaks which, while being a good thing, can make it difficult to find the right kayak for your situation. There's lots of conflicting information out there on which type of kayak you should go for so we decided to create a comprehensive list of the best kayaks available on the market today and cover their pro's and cons.
Quick Navigation:
1. If You're in a Rush:
We know how busy you can be so to save you some time we have picked our favorite all round fishing kayak in 3 separate categories. For full descriptions see their listings below.
Our Favorite Sit-On Kayak: The Sun Dolphin Journey 10-Foot Sit-on-top Fishing Kayak
Our Favorite Sit-In Kayak: Sun Dolphin Excursion 10-Foot Sit-in Fishing Kayak
Our Favorite Inflatable Kayak: Sevylor Coleman Colorado 2-Person Fishing Kayak
Keep in mind these were our favorite all round fishing kayaks in each category. If you are planning on ocean fishing check below for longer kayaks, or if you're mostly lake fishing look for shorter more maneuverable kayaks below.
Back to Table Of Contents
2. Types of Kayaks:
When it comes to fishing kayaks you will be dealing with 3 main varieties. The traditional sit in kayak, the sit on top kayaks and inflatable kayaks.
2.1 Sit-in Kayaks: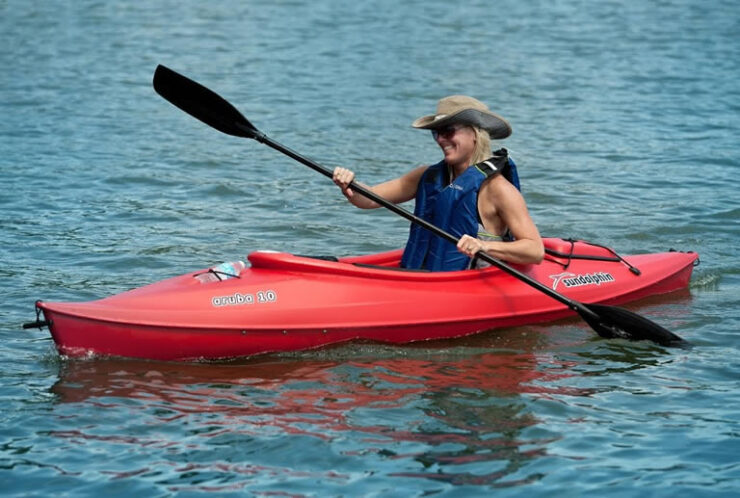 Sit in kayaks are the type you would normally picture when you think of a kayak. While being used your legs and lower body are inside the hull of the kayak itself. To stop water from splashing inside the cockpit if there are waves or if it is windy a spray skirt is used to keep your lower half dry.
Pros: These kayaks protect the lower half of your body from the elements (wind and water) so they are considerably warmer than the sit on top style kayaks. If you plan on using your kayak in areas with cold water, windy conditions or throughout the winter months then maybe a sit in kayak is the right choice for you.
These Kayaks also have a lower center of gravity than other kayaks keeping you more balanced in rough and choppy water.
Cons: If you do happen to flip a sit in kayak it is considerably harder to empty the kayak and get it the right way up again. If you do decide to go with a sit in kayak you should practice escaping from the kayak once it has rolled over and also how to roll it back up either from outside the kayak or from a seated position if you are able to do so. Standing on a sit in kayak to fish can also be more difficult as you have less room to move and the edge of the seating area can act as a trip hazard.
2.2 Sit-on Kayaks: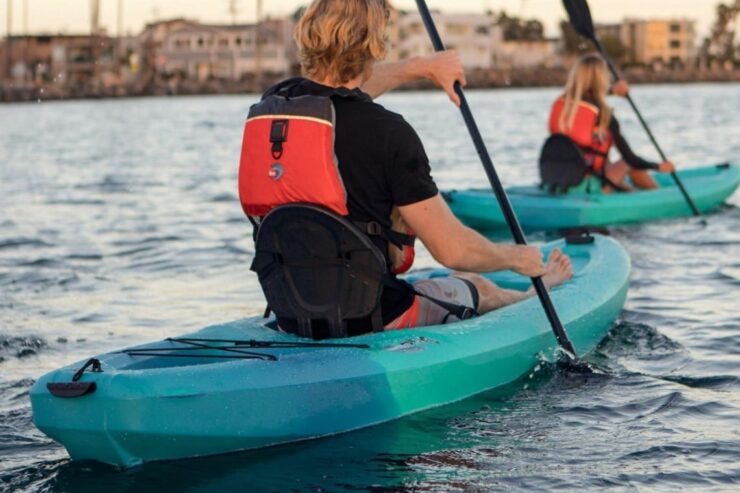 Sit-On kayaks are kayaks with a solid hull that you sit on top of while you are using them. This style of kayak has become the most common for fishing kayaks as they are generally more versatile and easier to use than the other types.
Pro's: As the hull is sealed on a Sit-On kayak they don't fill with water if they capsize making them easier to flip the right way up. They are easy to use for beginners and intermediates and are the most popular design of kayaks used today. They often have wide hulls making standing and fishing easier with more room on top of the kayak to stand.
Cons: Sitting on top you are exposed to the elements (both hot and cold weather). If you are somewhere with cold water and wind you may find yourself shivering or if you are somewhere hot remember your sunscreen or you may come back the color of a tomato.
They also have a higher center of gravity making them more unstable than Sit-In kayaks. For rough water (rapids and rough ocean) Sit-On kayaks are not recommended.
2.3 Inflatable Kayaks: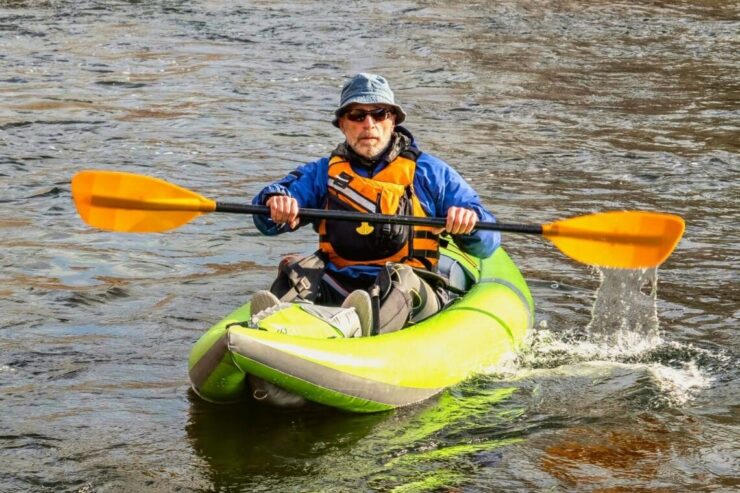 A new trend in fishing has been the inflatable fishing kayak. A few years ago they were a rare site but the ability to deflate to a small size (some even fit in a backpack) means they can be transported in a small car, carried onto a bus/train or stored in a small box in the garage. If you don't have the room to store a kayak or a car to transport one then maybe an inflatable kayak is perfect for you.
Pro's:
Better maneuverability: While deflated a single person can deal with an inflatable kayak far easier than a regular one. The ability to deflate your kayak and chuck it in the trunk of a small car is a massive plus.
Lightweight: Lighter and easier to move around than conventional kayaks these are a great option if you will be doing most of your fishing solo.
Seats are adjustable: With an inflatable kayak you get to decide how firm your seat is. You can pump in more air or let air out to harden or soften the seating.
Cons:
More affected by wind: While you are out paddling you will definitely notice the wind blowing you around more than a conventional kayak. This can be a good thing if it's blowing you home but it can be a real drag at the end of a day when it's blowing in the wrong direction.
Must be fully dried after use: You can't just roll up a wet kayak and chuck it in storage. To avoid mold before storage you need to open it back up and ensure it is completely dry or you might end up with a bad smelling kayak on your next outing.
Requires time to inflate: With an inflatable kayak you can't just turn up and get going. We would recommend getting an electric air pump that attached to your car if possible but hand pumps work fine as well they just take a little longer.
Small risk of puncture: Inflatable kayaks are made from durable, multi-layer plastic but punctures do occasionally happen. Running aground on an oyster lease or similar is sometimes enough to puncture your hull although patches are available to cover holes.
Now that you have a better idea on the kind of kayak you are looking for we can go over the kayaks we believe are best in each category. If you're not sure what length of kayak is best suited to your needs continue reading below and we will cover length and width of kayaks and its effect on performance and stability.
Back to Table Of Contents
3. Best Sit-On Fishing Kayaks:
3.1 The Sun Dolphin Journey 10-Foot Sit-on-top Fishing Kayak
This lightweight 10 foot long fishing kayak is a great all round fishing kayak. It's medium size and width makes for a stable and maneuverable kayak that can handle the majority of conditions you'd find while out fishing.
With built in flush rod holders, a swivel rod holder and storage room for a tackle box this kayak has everything you need for a fun day on the water.
This kayak is great for calm rivers and lakes but could still be taken out into the ocean on a calm day.
Pros
The kayak tracks well and is easy to paddle.
Ample rod holders (both flush and swivel) allows you to get your gear out of the way while you are paddling.
Great all round fishing kayak that can be used in most conditions.
Cons
The storage area behind your seat can be awkward to get to (although not impossible).
If you're taller than 6 foot this kayak may be a little too cramped for you.
3.2 Emotion Spitfire Sit-On-Top Kayak
This slightly smaller kayak is great for the solo fisherman. With well placed handhold's this kayak is far easier to maneuverer by yourself than most. Featuring a comfortable seat and lots of storage areas for fishing tackle this kayak is easy to paddle and very stable.
Pros
Lightweight: Weighing only 45lb's this kayak can be moved around a lot easier than others in this price range. Combine that with well placed hand holds and getting it into or out of a car should't be a problem.
Stable: A nice wide design makes for a stable base while casting and reeling in fish. On calmer days it could handle the ocean without any fuss.
Storage areas: With a dry well between your legs and front and rear storage areas you should be able to get everything you need on the kayak with room to spare.
Cons
No rod holders: With no built in rod holders it is probably a good idea to look at attaching some yourself. You don't want to risk damaging a rod or reel while paddling by having it rolling around under your legs.
3.3 Lifetime Tahoma 100 Sit-On-Top Fishing Kayak
This 10 foot long super stable fishing kayak is one of our favorites. This kayak is very comfortable to use and is very versatile. Its wide design makes it one of the most stable on the market so if stand up fishing is what you're thinking then this could be the kayak for you.
The website describes it as great for lakes and rivers but it can easily handle most ocean conditions if you have a little experience. My kids paddle it out the back of the waves and climb up and jump off it for hours and it doesn't come close to flipping.
Easy to get to dry areas and front and back storage areas mean you'll get all the fishing gear you'll need on board.
Pros
Super Stable: Goes without saying how beneficial this is while kayak fishing. If you trust your balance this is the best of the list for stand up fishing.
Storage areas: plenty of storage areas for tackle boxes as well as a dry area for your phone and wallet.
Paddle included
Cons
On the slower side: That extra width and stability comes at a cost. Don't go expecting to win any rowing races in one of these.
No rod holder: You should look into installing a rod holder to keep your gear safe and dry while you're out on the water.
3.4 Pelican Sentinel 100X 9.5 Feet Lightweight One Person Kayak
This low profile fishing kayak is sleek, fast, and perfect for a more experienced kayak fisherman.
With a flat ridged bottom this kayak is surprisingly stable and is very quick through the water. With rod holders, dry wells, storage areas and more this kayak has all the bells and whistles you're looking for in a fishing kayak.
Pros
Fast and smooth: This kayak will get you were you want to go faster and easier than most.
Gadgets: With built in rod holders, dry wells and storage areas this kayak won't need any optional extras (unless you want to add fish sounders or a motor).
Cons
Stability: Less stable than some of the others listed. It would be a struggle to stand and fish on this kayak.
Back to Table Of Contents
4. Best Sit-In Fishing Kayaks:
4.1 Sun Dolphin Excursion 10-Foot Sit-in Fishing Kayak
Sun Dolphin kayaks are regarded as some of the best built and looking at this 10 foot model it's easy to understand why. A solid, all purpose kayak with just about everything you'll need to enjoy a day on the water it's no surprise this kayak is one of the most highly rated online.
With a swivel rod holder, 2 fixed rod holders and plenty of storage space you'll be hard pressed to find another Sit-In kayak up to this standard without adding a few hundred dollars to the price.
Pros
Stability: A stable hull that tracks well and is quite easy to paddle. It has a comfortable seat and is quite lightweight when moving it around.
Designed for fishing: With rod holders in useful positions and lots of room for gear this Sit-In kayak is ready to go from day 1.
Cons
Speed: This is not the fastest kayak you will ever use. Paddling against a current or the wind is manageable but will leave you puffing.
4.2 Old Town Vapor 10 Recreational Kayak
Another good option if you're looking for a Sit-In kayak is the Old Town Vapor. Designed with extra comfort in mind this stable cruiser is fine to sit in for hours on end. Backed up with a lifetime warranty and with lots of easy of use features like drink holders, carrying handles and a paddle rest make for a very easy to use kayak.
Old Time Kayaks are the oldest and biggest kayak manufacturers in the world so they know what they are doing when it comes to ride comfort and design features.
Pros
Lifetime warranty: Peace of mind from an established company that has been around forever.
Ride comfort: You can tell this kayak was designed well. The seat and leg positions allow you to paddle for hours and have little to no pain or discomfort the next day.
Cons
No rod attachments: You have to spend time and money installing your own rod holders if you plan on using this kayak for fishing purposes often.
Weight: A little on the heavy side if you are moving it around by yourself. This is not a problem if there are two of you.
Back to Table Of Contents
5. Best Inflatable Fishing Kayaks:
5.1 Sevylor Coleman Colorado 2-Person Fishing Kayak
This Sevylor Coleman is everything you want in an inflatable fishing kayak. Made from durable materials and designed with fishing in mind it has just about everything you could ask for in a fishing kayak. With built in rod holders, paddle holders and the ability to bring your friend along for the ride you'll be out on the water every chance you get.
If you're worried about being blown by the wind there is also the option of adding an electric motor onto the kayak allowing you to focus entirely on the fishing.
Pros
Design: Designed with fishing in mind so it has rod holders and the storage space you need.
2 person: Bring your friend along for the ride and spend the day catching fish.
Durable: Made from multiple layers of durable plastic a puncture is rare. If you do get unlucky the kayak has multiple sections so one puncture won't sink the kayak.
Cons
At this price point we don't have many faults with it. Having to buy a paddle (or two) and a pump extra would be our only cons.
5.2 Intex Excursion Pro Kayak, Professional Series Inflatable Fishing Kayak
Another great inflatable fishing Kayak is the Intex Excursion Pro. With a super tough design, high pressure inflation for increased rigidity and comfortable bucket seats this kayak is great for hitting the water either solo or with a friend.
Featuring rod holders and storage areas and also including 2 paddles and a high pressure pump means this kayak is more affordable than the Colorado 2 person while also boasting the same level of fishing accessories.
Pros
Width: Wider than most inflatable kayaks allowing for more stability in casting and winding.
More add-ons: With a bunch of add-on options including gps systems, fish sounders, electric motors this kayak will keep the techie people happy.
Inclusions: The price includes two paddles and a pump so you'll have everything you'll need from day 1.
Cons
Can be difficult to get back into the bag once it has been used.
5.3 Intex Explorer K2 Kayak
If you're looking for a budget inflatable kayak then this is the one for you. Made from durable plastic and capable of fitting two people the Intex Explorer k2 only costs around $90. That price even includes 2 paddles and a pump so you'll have everything you'll need once it arrives.
Weighing only 30lbs and capable of being folded into a small carry bag this kayak is great for exploring lakes and mild rivers. The kayak was not designed with fishing in mind but that does not mean you can't bring a rod or two with you.
Pros
Affordable: At only $90 you're not going to find a cheaper alternative.
Inclusions: Price includes 2 paddles and a pump to inflate the kayak.
Cons
Not designed for fishing: No rod holders and very little storage space.
Stability: It is not the most stable kayak so we would only recommend its use on lakes and calm rivers.
Back to Table Of Contents
6. Features Explained:
Footrests: Footrests are normally molded into a kayak however some also have movable footrests that you can adjust to suit your size. Well placed footrests allow for easier paddling, giving your body something to brace against while paddling. You should have a bend in your legs and the ball and heel of your foot positioned in way that you can push against them comfortably.
Taller people may have too much bend in a small kayak which can lead to pain in the leg joints and muscles if you're paddling hard.
Hull Shape: The shape of a hull effects how a kayak moves through the water. A flatter hull is more stable side to side whereas a deeper v hull moves through the water faster (imagine a pontoon boat vs a speed boat). For fishing you generally like more sideways stability so a flatter hull shape is preferred. You will often find yourself casting sideways or leaning sideways while reeling in a fish so the extra lateral buoyancy is beneficial.
Chine: Chine are like steps or ridges in the bottom of a hull that are used to effect how a kayak moves through the water. Fishing kayaks often use multiple chine hulls that work as a compromise between a fast and stable hull shape.
Rocker: The ends of a kayak are slightly higher than the middle (like a banana). This is called the rocker. The more or less rocker a kayak has effects its speed and maneuverability in the water. The more rocker (bend) a kayak has the better it can turn and maneuverer because the parts turning (the front and back) have less water resistance while they pivot. The less rocker a kayak has the faster it can go in a straight line because the kayak is a more uniform depth so has less drag while going forwards. For a fishing kayak you generally take maneuverability over speed so a kayak with slightly more rocker is preferable.
Skeg or Fins: Some kayaks have skeg attachments that allow you to add small fins to the bottom of your kayak. These help your kayak travel in a straight line but care needs to be taken when dragging your kayak out of the water as they can be quite easy to break. Some need to be removed before you take the kayak out of the water while others are designed to spin so you can leave them in all the time.
Multi-chamber shell: While inflatable kayaks are made with durable and thick plastics it doesn't mean that punctures never happen. A multi chamber shell means that the inflatable kayak has several different sections that fill up with air so if you puncture one part of the hull you won't find yourself swimming back to shore.
Back to Table Of Contents
7. Things to Consider Before Purchasing:
Transport
If you travel with public transport or only have a small car then the obvious choice is an inflatable kayak. If you have a car or trailer that can fit a kayak then you should start looking into a Sit-On or a Sit-In kayak and see which one suits your lifestyle the best.
Size
Generally speaking for an all purpose fishing kayak you would be looking around the 10 foot mark. If you plan to do most of you fishing on lakes and calm rivers and occasionally venturing out into the ocean on calm days then a wide 10 foot kayak will do everything you need. If you mainly plan on ocean fishing or on more active rivers than a longer slightly faster kayak may be better suited to your needs. The extra length and speed makes it easier to paddle against the currents, tides and waves you experience in rougher water. If you're fishing in small rivers or amongst tight terrain then the maneuverability of a small kayak may be the best for you.
Width
The width of a kayak and it's hull design effect a kayaks stability and speed. As a general rule the wider the hull the more stable it is. If your plan is to stand while fishing off your kayak then stability and width is extra important. If this is your first time kayaking I recommend a moderate width. This will give you the stability you need to chuck lures and catch fish out the side while also allowing you to ditch the rods and have some fun racing around with just the kayak.
Durability
Good quality kayaks should last a lifetime and several brands even offer lifetime guarantees on their kayaks. Stick to reputable brands with track records of good customer service and you should be fine. Grabbing a no name brand to save a few bucks often ends up costing you more in the long run.
Price
As you can see from the kayaks above you can get a great kayak for under $500. If you have never used a fishing kayak before we recommend starting with one of the ones listed above. There is no point dropping thousands of dollars of a fishing kayak only to lose interest in it 2 weeks later. Spend a few years and a few hundred hours out on your kayak and if you still love doing it then start looking into more expensive options that have more features and gadgets.
Where will you fish
The kayaks listed below are designed for lakes and mild rivers. Full ocean designed kayaks that can handle rough swell and big waves come with a much larger price tag. We are not saying you should never take your kayak out in the ocean we are just saying be reasonable, wait for calm days and build up experience in the water before heading out there. Understand how rips work and how to spot them and don't go anywhere where you wouldn't be able to swim to shore if necessary. Also ALWAYS wear a life jacket when you're on the water they have saved many lives over the years.
Storage Space at home
If you live in a small apartment then an inflatable kayak is probably the best bet for you. Don't buy a large kayak if you don't have somewhere to store it that won't annoy other members of the household. We have seen way too many kayaks getting sold simply because a partner wanted some garage space back.
Peddles vs. paddles
You're not going to find a good quality peddle kayak under the $500 mark (unless you get lucky on the second hand market). While it is good to have your hands free so you can spend more time fishing once you get use to your kayak and where to put your paddle you don't lose much time at all with a regular kayak. I recommend installing a paddle holder somewhere on your kayak (see options below) so that you don't have to worry about dropping a paddle while reeling in a fish (I've seen it happen).
Back to Table Of Contents
8. Accessories:
When it comes to fishing kayaks you have a full selection of add-ons and upgrades you can use to improve your kayaking experience. Some of these may come included on your kayak will others will be optional extras.
Life-jacket
While kayaks don't come with life jackets included they are an absolute must when you're doing any activity on the water. It doesn't matter if you're a good swimmer or the water is flat, accidents can and do happen and it is better to be safe than sorry.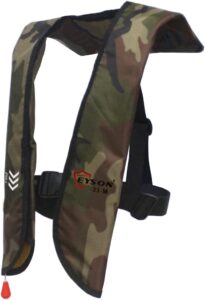 Rod Holders
When it comes to fishing kayaks we think rod holders are a must. Many fishing kayaks come with rod holders installed but if yours doesn't then we definitely recommend installing some yourself. Having a rod and reel rolling around at your feet is just asking for trouble. If you are installing one make sure you put it somewhere that won't get in the way while you're paddling.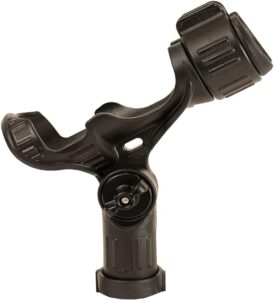 Tackle storage
A big bulky tackle box can be hard to fit in a small kayak. Most kayaks have a rear storage well covered with elastic. I recommend getting one or 2 flat plastic tackle box trays and just bringing those when your out fishing. I have several boxes organized into different target species so I can just grab the one I'll need as I'm heading out.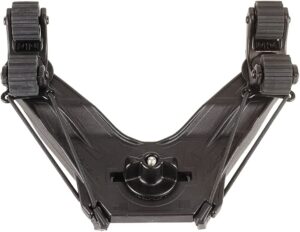 Paddle Holder
A paddle holder is a great addition if yours doesn't come with one stock. It's great having somewhere you can chuck your paddle quickly and get casting right away. I use one similar to the picture below which is great for quickly attaching and detaching quickly.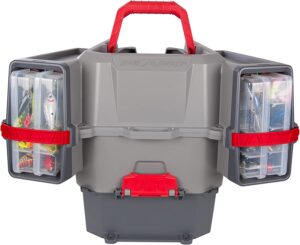 D rings
D rings are little attachment points on your kayak for keeping things tethered on. You can use D rings to clip yourself onto a structure, attach as a safety line to your fishing rod or to make sure you don't lose your GoPro.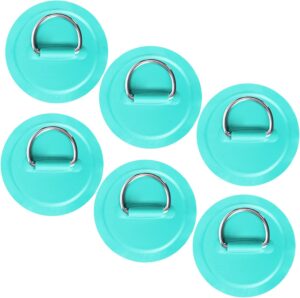 Bungee cords
These are made of elastic and attach themselves to a D ring. Using an elastic cord instead of a piece of string keeps it out of your way while using it.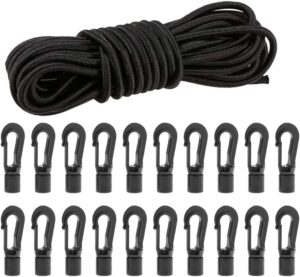 Electric Motors
If you're really looking to add the bells and whistles you can add an electric motor onto some kayaks. These small, silent motors let you save energy and spend more time with your rod in your hand. If you're fishing in an area with current some models also have the ability to hold your position where you just turn it on and it will make all the adjustments necessary to keep the kayak in the one place. In general kayak motors have fairly small batteries and motors but they provide more of a boost than you think. They are great for helping you get home against the current and wind.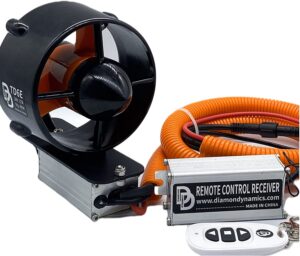 Fish Finders
Attaching a fish finder to kayaks is also becoming more popular. Fish finders bounce a signal off the bottom allowing you to see the depth as well as potential fish in the area. These can be a great help in selecting the size and type of lure or weights you'll need to get into the strike zone.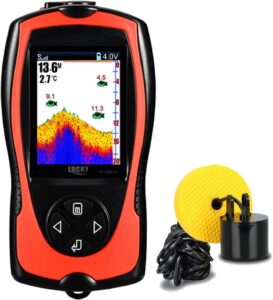 Outriggers
If you're looking for a little more stability while you're fishing then outrigger attachments can be a great addition. Many people who like to stand while kayak fishing use an outrigger to help keep them upright. Some kayaks have special made outriggers that fit into grooves on the hull while others will need more of a DIY attachment (e.g. glue).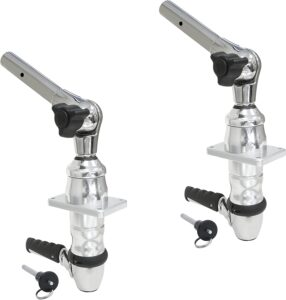 Back to Table Of Contents
Final Thoughts: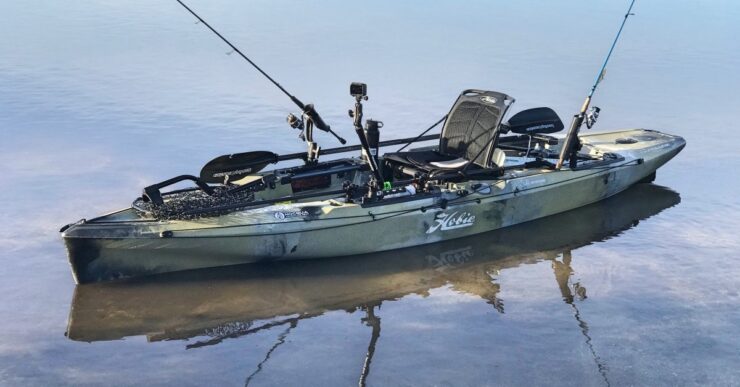 Fishing from a kayak is great fun. The feeling you get when a big fish is dragging your kayak all around a lake is an experience like no other. We wrote this article to show you that buying a fishing kayak doesn't need to set you back thousands of dollars and with some budgeting and saving almost anyone can afford to buy one.
If you do decide to get a kayak take your time getting experience on that water. Don't head straight for the ocean and see what happens. Stick to calm water and learn how your kayak moves through the water, how it balances and how it reacts to your paddling before you try anything more advanced. Always remember to wear a life jacket and keep yourself safe on the water.
We hope you have as much fun on the water as we do and if you have any tips or suggestions please send us an email at let us know.
Back to Table Of Contents