Grand Isle, Louisiana, is the Cajun Bahamas Just two hours southwest of New Orleans at the southern most point of La. State Highway 1, lies a whole other world that lives up to its name, GRAND Isle.
Grand Isle, from earliest days of exploration along Louisiana's coast, has indeed figured strikingly with regard to state history. As early as the 1730's, it was the French that actually controlled a string of islands at the entrance of Barataria Bay. Many have it that they gave the island its name, meaning big island, being that it spans a little more than eight miles unbroken.
Grand Isle is a barrier island, bordered on the east by Barataria Pass and on the west by Caminada Pass. It was formed virtually by the Gulf of Mexico's wave action and is considered to be a relatively recent geographical development. Though increasing erosion and exposure to various hurricanes have taken a toll on its dwindling width, efforts in recent years have been made to reconstruct it with sand, seareed (beach grass) and some rock-boulder barriers at strategic locations.
During the pirate days, the only flourishing trade may have been the notorious operations of Jean and Pierre Lafitte. Since then, however, business has been mostly centered around the seafood fishing industry, offshore oil rig activity, and the annual influx of island-seekers readying for fishing, swimming, and sunbathing.
Once you visit and undergo the pleasures offered by this island, you will then appreciate further why it is called "Grand" Isle. On a clear summer's day, you can see its beautiful, sparkling, yellowish sand meeting up with the clear, green Gulf waters that are often freckled with sunbathers, boaters, and surf anglers for miles.
Grand Isle State Park is the only state-owned and operated beach on Louisiana's Gulf coast, and it is no slouch when it comes to quality fishing. Local biologist claim that the surrounding waters of Grand Isle hold over 280 different species of fishes.
The main attraction is the 400-foot long fishing pier which extends into the Gulf and attracts both day and nighttime anglers for a reasonable fee. It is the only public fishing pier on Louisiana's Gulf coast. And, after a day of fishing, one can take advantage of the fish-cleaning site near the bathhouse.
Other fishing hot spots are Fort Livingston (located on the west side of Barataria Pass), Caminada Pass, and the "Old Fishing Bridge" that parallels the only access bridge to Grand Isle.
Fishing Bridge Picture Different seasons offer different types of fishing. For example, speckled trout fishing is good year-round, but the best times are spring and summer. Hot red fish action along the surf occurs in fall and winter, while night flounder gigging is best during the warmer months on incoming tides.
During spring through fall, wade anglers enjoy fishing all around the island, but caution must be exercised when fishing certain areas like Caminada Pass and Barataria Pass located west and east of the island respectfully. These areas have deep drop-offs and swift currents that can cause drowning if one wades out too far from the beach.
The old fishing bridge offers enjoyable crabbing and fishing for such species as croaker, white trout, Spanish mackerel, sea perch, drum, and sheepshead that abound around the barnacle-covered wooden piling legs. This old wooden bridge at one time was the original access entrance to the island, but has since been converted for fishing only.
During the summer, night anglers lower gas lanterns from this bridge near the water's surface by means of a cord, in order to attract bait fish which in turn draws speckled trout and other species. Sparkle beetles and other type lures are then dangled in front of them in an endeavor to provoke a strike. Once a fish is hooked, a crab net is lowered down to land the fish.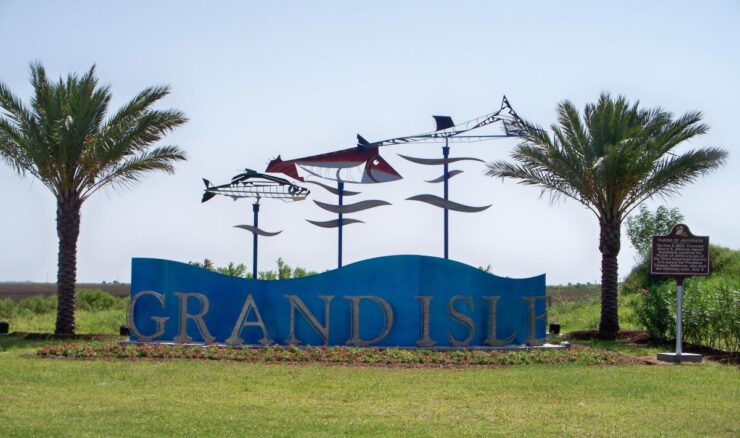 Grand Isle offers an array of activities even for those without a boat… like the productive wadefishing that goes on all around the island. For those with a boat, however, the fishing menu can be endless. The offshore platforms common throughout Louisiana's waters appear to teem endlessly out into the Gulf and over the horizon. For example, the famous Sulfur Rig is in plain view from the island (Has been removed, and converted to an artificial reef) both day and night. The Grand Isle Blocks (G.I. Blocks) are easily reached from either of the deep passes on either side of the island.
Summer tarpon fishing and year-around snapper (seasonally regulated), grouper, barracuda, and other deep-sea quarry avail themselves to those who can reach them. Blue water species such as tuna, wahoo, and dolphin are generally trolled for in deep waters that lie some thirty miles offshore.
Grand Isle is the host of the famous three day Tarpon Rodeo held every July. Angler come from near and far to fish this highly competitive rodeo, better known as the "Grand Daddy" of them all, since it is one of the oldest fishing rodeos around.
Fishing, though, is not the only attraction to the 300,000 annual visitors to Grand Isle. The park also makes available choice prospects for campers, picnickers, and swimmers, as well as those who just like to scour the beach for seashells of various colors and shapes.
Grand Isle is host to a variety of different bird species, and bird-watching enthusiast come from all over to observe the twice a year trans-gulf migratory birds that congregate there before continuing their journey. There are also a vast number of year-around bird species that have drawn many a photographer to the area. Among such commonplace species are the terns, sanderlings, and gulls that uproariously announce daybreak through the calm of early morning rising.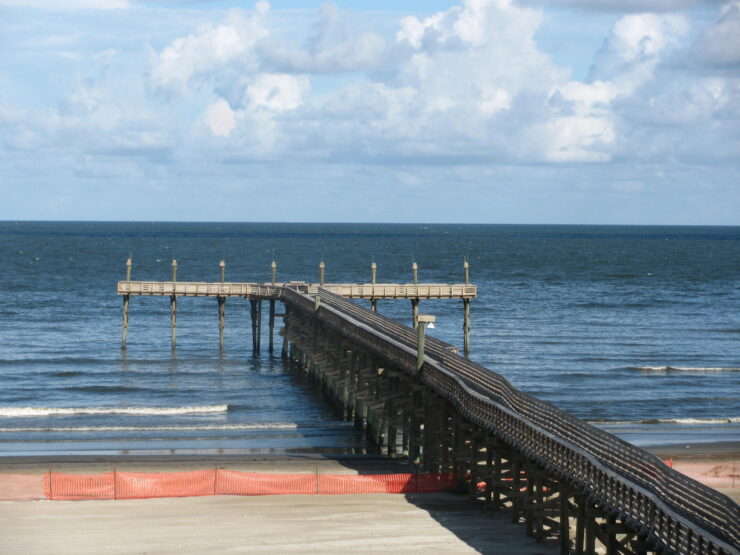 The state park can accommodate up to 100 families or groups, even though no utilities are provided for those wanting to camp overnight. Nevertheless, there is a nearby bathhouse with running water and an adjacent dump station.
Beside the state park accommodations, local newspapers advertise private camps for rent, some of which have boat docks and private fishing piers for their customers. Commercial hotels and motels, many built like camp sites, line both the north and south sides of the road into Grand Isle.
Last-minute weekend bookings for hotel or motel rooms are hard to find during the summer months, unless presummer reservations have been arranged or you happen to find a cancellation. Nevertheless, hotels prefer booking for a minimum of three days on the weekends.
Grand Isle is not just any remote island on the Gulf coast, it is a real community, with grocery stores, department stores, fast-foods, and Louisiana Cajun seafood restaurants. And it has been rated as one of the top-ten fishing spots in the world, even before the oil industry planted the steel platforms throughout the Gulf of Mexico.
It is not uncommon during warmer months, like July and August, to see people along the beach catching hampers of crabs with little effort. In fact, successful Grand Isle crabbing doesn't even require fancy crab traps or nets. Many just bring two sticks of appropriate length to drive into the sandy sea bottom near the beach. Between the two sticks, a 20 ft. or so length of twine is tied with 2 ft. drop lines every three feet apart. To the ends of the drop lines a chicken neck is tied for bait. Every 20 minutes the drop lines are carefully lifted out of the water one at time with a landing net under the bait. As the bait clears the water, the crabs fall into the net.
After the crabs have been collected in the net, the net is emptied into an ice chest or bucket. When the crabs are running good, the lines can be checked every five minutes or less.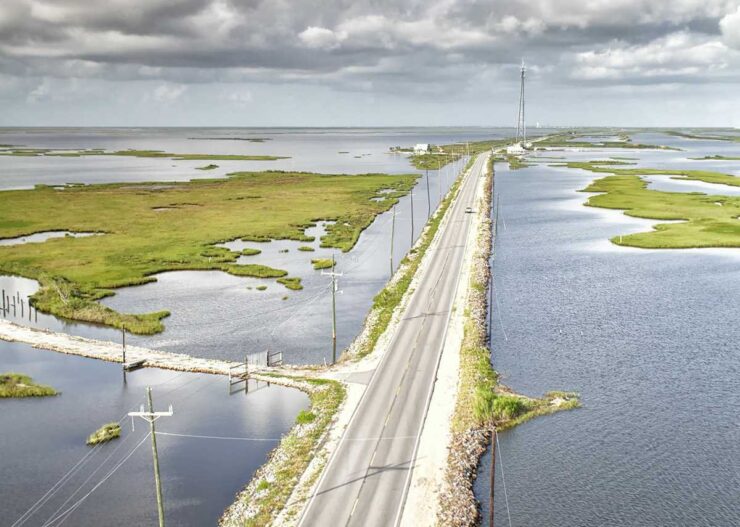 Grand Isle is one of the few places that you can cruise slowly down the highway, on a light, breezy evening, and enjoy the smell of heavily seasoned boiling crabs at various camp sites along the roadsides. Some of the occupants can be seen inside their screened-in porches, with spread newspapers for tablecloths, wreaking havoc on these tasty critters.
Or, on any quiet night, soon after sunset, when the lapping waves of the Gulf of Mexico can be heard rustling with Grand Isle's sandy beaches, you can see the days catch being cleaned at one of the fish-cleaning stations at certain boat docks.
This is the way Grand Isle is perceived to those who have shared her abundance, year after year. It is as much a part of Louisiana living as red beans and rice and Barq's root beer. It is the "Cajun Bahamas" of Louisiana and the natives would have it no other way.
Grand Isle, the mere name says it all!