Move over Robin Hood, Alan Yedor is in the marsh. All you anglers out there, put away all those fancy rods and reels, tackle boxes, and lures and experience a different challenge in the fishing world. That's right, fishing for reds, flounder, sheepshead, alligatior gar and, more with only the use of a bow and arrow from a boat at night.
This is indeed a different approach to fishing since the bow and arrow has long gone out with the covered wagon. But for Yedor, vice president of the Bowfishing Association of America, it is neither forgotten nor abandoned.
It's a type of fishing that can best be described as fast, furious, and exciting. To Yedor, the latter becomes quite apparent; all you have to do is pose a question regarding the sport. "I've shot one alligator gar that measured over seven foot long and weighed over 160 lbs.," Yedor elatedly bellowed over the noise of the outboard motor as we headed down a canal to one of his favorite spots. The sport is fast catching on, and he claims bowfishing enthusiasts come as far as Aberdeen, S.D., to experience what the Louisiana marshlands have to offer.
To some, an invitation to go on a bowfishing trip might not seem like much of a sport; something like shooting fish in a barrel. Nevertheless, after one observes Yedor in action, the idea of unsportsmenlike is the furthest thing from the truth.
Not only is keen skill involved, specialized equipment is also essential. Yedor uses a special-built flatboat that sort of resembles something out of the movie Water World. But don't be too fooled by looks alone. Everything aboard is fully functional and enhances the sport of night bowfishing.
For lighting, Yedor uses six 500-watt Halogen lights that are mounted along the bow section and a quarter way back along the gunwale. Except for the two stationary lights, located below the elevated deck facing the front, the other four are adjustable from side to side and up and down.
The electricity for the 120-volt system is supplied by a 4000-watt gasoline generator. The four adjustable lights are affixed to one-foot sections of pipe with all wiring neatly out of the way. The lights are aimed so that the area ahead of the boat is sufficiently illuminated, forming a crescent band of light that easily penetrates the water's surface. A 5 ft. by 5 ft. elevated deck sits two feet above the boat's gunwale so that the shooters aren't affected by glare. Four people can shoot from the platform if need be.
The boat uses two types of power for maneuver around fishing spots. When the water isn't too shallow, a trolling motor mounted at center bow keeps the boat quietly moving through the marsh. If the water is very shallow, a gasoline-powered fan, set astern and controlled from the cockpit, propels the boat. The fan works much like an airboat's fan but not as powerful.
After running a few blocks from the Lake Hermitage Marina, located off of La. Hwy. 23, 25 miles south of Belle Chasse, we were poised and at the ready, peering down at the water in search of fish.
"The water's murkier than it was the other night," Yedor remarked, as he held his compound bow loaded with an arrow. Low tide and high wind conditions were the culprit for reduced water clarity.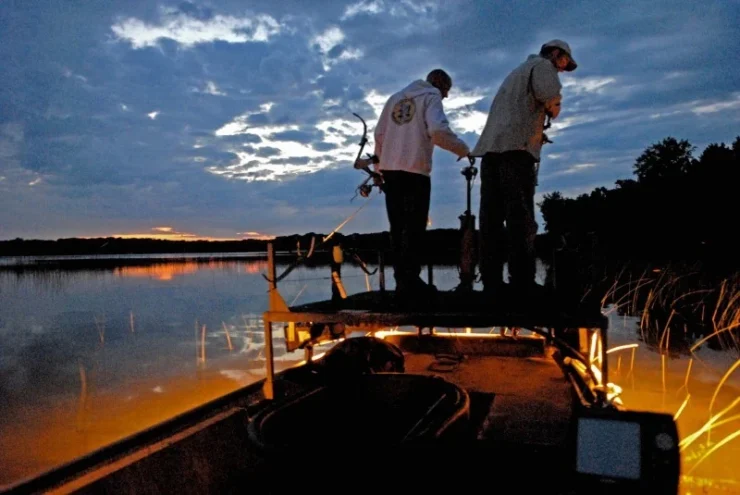 Yedor's bow and arrow are specifically designed for shooting fish. The arrow is devoid of feathers and is four to five times heavier than most conventional arrows. The head of the arrow has a specially designed harpoon-type head that keeps the arrow imbedded upon impact. The arrows a constructed of solid fiberglass and are only accurate within 20 ft.
Once you shoot the fish, you have to get it back to the boat. This is accomplished by a strong line attached to the tail of the arrow. "You only need about 30 yard at the most," Yedor said. "I use a 40 lb. test Fast-Flight line on my bow."
As the boat traveled deeper into the marsh, the water became murkier. But that didn't hinder Yedor from seeing an obscure sheepshead hiding near a submerged stump. With bow cocked and arrow aimed, the fish was quickly shot and brought aboard.
You can tell right away that Yedor has many years of experience with a bow. When he shoots an intended target, it's done instinctively without prolonged aiming. After a fish is shot, the line is pulled in while the boat continues moving along. Once the fish is boated, it's detached from the arrowhead and places it in an opened plastic drum until the thrashing subsides. The fish is then placed in an ice chest after it expires.
Several yards down from where the sheepshead was shot, a garfish frolicked upon the surface. In no time Yedor repositioned himself and shot. The fish was hit and the battle was on.
While this particular gar was rather small, Yedor has shot many alligator gars in the 100-pound range that have literally towed his fan-boat around the marsh like a toy. The hard, scaly covering on these scrappy brawlers becomes apparent as even when shot at close range the arrow may deflect if not squarely hit.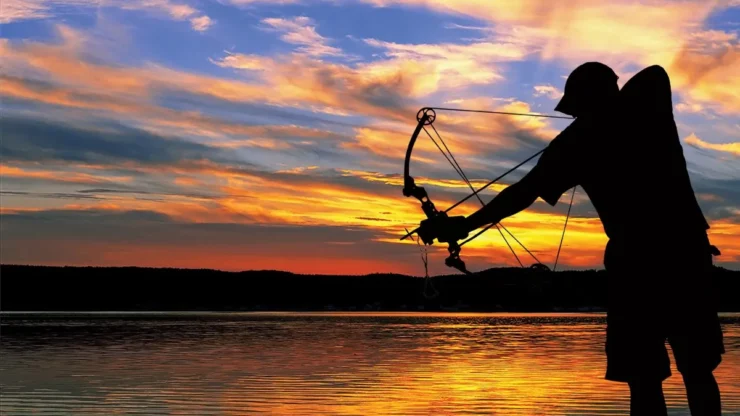 When Yedor prepares for this type of fishing, he chooses not to wear anything bright or flashy that may expose his presence to the fish. That's why Yedor and his crew typically wear dark clothing or camouflage shirts and pants. This obscurity, of course, pertains also to the bow and arrow equipment as well, since some archery gear may be too brightly colored.
Being elevated above the water with the lights shining down below, naturally put Yedor and his crew at a vantage point for finding fish. Ironically, even at such a strategic location, it's still difficult for the novice observer to identify the fish under aim until it is actually hit with the arrow.
Particularly notable was how certain fish responded differently to the intruding boat. For example, the resonating generator noise caused some fish to shoot out from nowhere, leaving along the bottom a telltale sign of sandy cloud trails. While on the other hand, certain other game fish became disoriented by the intrusive lights, causing them to dart out of sight ahead of the boat, only to return right within shooting range to be harpooned.
Yedor admits that it may look easy, but much practice goes into being an accurate shooter. Notwithstanding, Yedor says he can teach the fundamentals skills to a beginner in a relatively short time, even if they have perhaps never engaged in archery before.
Soon after Yedor landed the gar, his friend Mike abruptly launched his arrow and was into a furious brawl with a 10 lb. redfish. Despite being harpooned with an arrow, the fish put up an incredible battle, thrashing and splashing water all over the boat's side. Mike vigorously retrieved his line in, similarly to that of fighting a fish on a rod and reel.
Several other shots were made soon after landing the redfish, but the arrows missed their intended targets. When this happened, the arrows penetrated deep into the muddy bottom, which requires a strong and steady jerk on the line in order to free it.
On occasion Yedor moved so deeply into the shallow marsh that the boat became stranded in the muck, requiring a push-pole to set it free. Also, as a result of continuously staring down at the water for fish, it's not unusual for him to get lost and have to wait for daybreak before finding the way back.
Unlike other types of fishing, Yedor doesn't place a lot of emphasis on tide movement, other than blaming it for reduced water clarity when it falls.
But he does place importance on the locating of bait fish and other crustaceans that draw the fish. Knowing where to look also helps, such as prime locations where smaller ditches drain into waterways and irregularities along banksides. This where predator fish like to hide in ambush to feed.
While traveling along the narrow ditches and canals, fish were observed hiding next to stumps and other objects of cover. At times they seemed to be stationary with little movement, as though asleep. But don't think for one moment that these made for easy targets, because the fish frequently and unpredictably dashed out of harm's way. Added to that was the fact that the boat never stood still; it was continuously on the move under the thrust of the trolling motor.
Yedor's main reason for constantly moving is to find clean water, making it easier to spot the fish. But that can be a formidable task, penetrating many miles deep into the marsh while relentlessly looking down. However, Yedor claims he's gotten lost on more than a few occasions and had to wait for daybreak before he could find his way back.
Despite the trip's low and dirty water conditions, Yedor and Mike still managed to find and land drum, sheepshead, redfish, flounder, and garfish.
If there's a choice between bowfishing and rod and reel fishing, Yedor prefers bowfishing because success of the sport is not highly dependant upon such factors like tide, wind, and bait. "The fish are going to be there, and all you have to do is be there too!" he said.
EDITOR'S NOTE: As of this writing, the Louisiana Department of Wildlife & Fisheries deems the bow and arrow a recognized and legal method for obtaining fish from the waters of Louisiana. However, it is illegal to obtain spotted bass, largemouth bass, black or white crappie, white bass, yellow bass, striped bass, hybrid bass, or any species of bream with this method. Check your local area for laws in this regard.