I would like to help you define when to use spoons, crankbaits, flasher flies, dodger flies, squids and a variety of other lures. The way I decide what to use is determined by many variables. Let's look at each of them separately.
What we are looking for is the right color, size and lure action that will get your target species to strike. There are basically two approaches with every fisherman putting his own twist on each.
Some fishermen believe it is better to run all of the same kind of lure at one time and use a selection of colors or sizes. This type of presentation is called bait sets. They will run the same type of spoon on each rod in a variety of colors and sizes, or all flashers and flies in different colors. Bait sets work well when you know what's happening but you leave no room for error. If you're hot you're hot or if you're wrong you may not be in the game.
The other approach to presentation is running a different lure on every line. This set up is called shotgun. Mixing lures this way is tricky; some lures may be too fast or too slow to work well.
On most days, I run a mix of different lures doing what I call mini sets. This is what I might do in a summer presentation. I am usually running 12-16 rods. I split up my rods into three mini sets. On the deepest lines in the coldest water I fish for Lake trout. All the deep lines are matched for speed, color and preference of the target.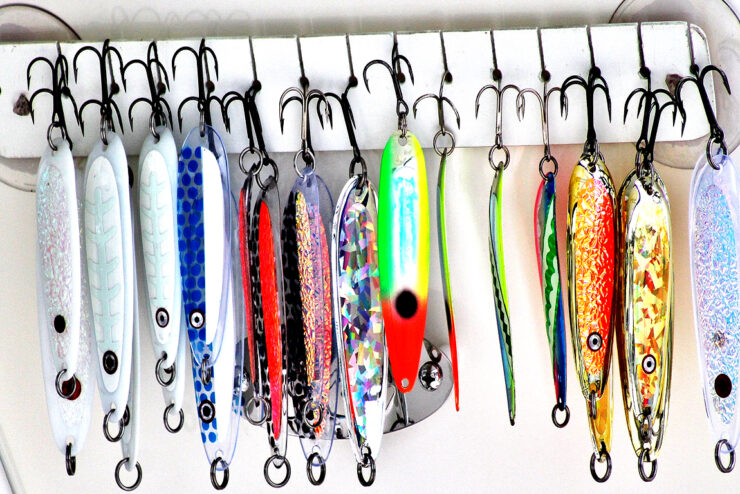 This is a good time to talk about color as it relates to the amount of light. You may or may not remember learning the colors of the rainbow in school. The colors are remembered by this acronym "ROY G BIV". These letters mean red, orange, yellow, green, blue, indigo and violet. There are exceptions to every rule. Most of the time I run lure colors of red, orange, or yellow when that lure is presented in the portion of the water column with the most light. The other end of the rainbow blue, indigo and violet are used in darker or low light situations.
You may ask what about silver and white? I consider these as neutral or they will work in any type of light. All the other colors fall into either bright or dark. Bright lures are used in bright light conditions dark lures in low light.
Now let's get back to setting our deep lines. Go with colors for low light that work well at a speed you intend to run and in the size of the baitfish. Medium to large spoons, Opti-dodgers with flies, or spin-n-glows and lake trolls work most days. Look for temps below 48 degrees for Lake Trout.
The next mini set will run in water above the deep lines. Fish the 48-58 degree water spreading the lines to run about every ten feet of depth. Here we are looking for Chinooks and Coho salmon. I like a mix of opti-dodgers, flashers and flies with a long lead spoon or two. The balance of my lines will run in 59 degrees or warmer water looking for rainbows and browns. Depending on how much warm water you have to work with you can cover it with long lines, diving planers and lead core.
The mini set in the warmest water with lots light should have the lures with fastest action and brightest colors. I was not on the lake yet this season. Give me a call on the lake to exchange information. Good luck Captain Jim.