COLUMBUS, OH — A white-tailed deer killed last fall in Greene County is an Ohio record, and if approved by national scoring organizations, would also be the largest deer ever taken by a hunter in the world, according to the Ohio Department of Natural Resources (ODNR) Division of Wildlife.
Deer hunters all over the country have been anxiously waiting for the official scoring of a huge white-tailed buck shot by Xenia bow hunter Mike Beatty on November 8 in Greene County. Yesterday, a panel of judges put together by the Buckeye Big Buck Club met to decide whether the deer would become the top non-typical whitetail ever taken in Ohio, and possibly the biggest ever taken anywhere by a hunter.
A deer's antlers are classified as being non-typical when they are unsymmetrical and irregular in shape.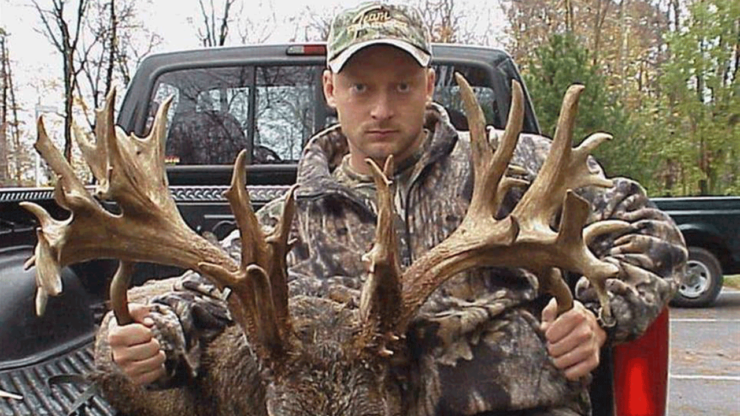 Mike Beatty's adventure began on November 8 when he shot the huge non-typical whitetail with 39 measurable points. Beatty contacted Ron Perrine, Sr. of Xenia, an official scorer for several antler scoring organizations, including the Boone and Crockett Club, the Pope and Young Club and the Buckeye Big Buck Club. Perrine initially scored the buck at 291 3/8. Antlers are required to "dry" for 60 days before an official score can be taken.
The Buckeye Big Buck Club keeps records of large bucks taken by hunters in Ohio. Butch Todd, scoring supervisor for the Buckeye Big Buck Club, organized a panel of four judges, including Perrine, to measure the buck and come up with an official score. At the end of the session, Beatty's buck came away with a score of 304 6/8, making it easily the largest non-typical buck ever taken in Ohio.
"I scored it very conservatively the first time around; it's far better to surprise a hunter with a larger score than to cause disappointment when the official measuring is done," said Perrine.
The score sheet produced by Perrine will be submitted to the Boone and Crockett Club for future inclusion. Currently, only two non-typical bucks score higher than Beatty's buck. Number one is called the "Missouri Monarch" and scores 333 7/8. It was found dead near St. Louis in 1981. Number two is Ohio's "Hole-In-The-Horn" at 328 2/8, found dead by a railroad track near Ravenna in 1940. Beatty's buck should end up listed as number three, but will be the largest taken by a hunter.
"This is incredibly exciting," said Mike Budzik, chief of ODNR's Division of Wildlife. "Of the top three non-typical bucks in the country, two come from Ohio. I couldn't be more proud of our deer management efforts."